Link Building
Table of Contents
Types of Links & Link Sources
Back to Top
Quality Links
Broader List of Link Sources
Create content or ideas that important people can identify with and would likely link to.
Directories may link to sites you submit.
You can exchange links with similar websites. If you can afford to, it is better to create legitimate business partnerships and friendships rather than just to trade links with whoever is willing.
Writing articles about your topic and syndicate them to other websites. If you submit articles to other sites and publish that article on your site, you may want to create unique content just for the article submission sites, or have a longer or different version of the article on your site so that you are not fighting against duplicate content issues when others syndicate your articles.
Writing press releases can give you inbound links.
You can participate in forums that provide signature links. If you participate in communities and leave relevant, useful comments, then eventually people may want to link to you if they start to like you.
Buy links or rent advertising space.
Donate to charities for links.
People interested in your site may eventually link to you without you asking. Generally, this is determined by content quality, brand strength, and market exposure.
Generally, the easier and cheaper the link is to get, the less a search engine will want to trust it. Getting other people to want to talk about you or your business (and link to you) is the golden egg of SEO. Search engines want to count legitimate editorial citations. They would prefer not to count other types of links as votes. Some engines, such as Google, find and discount many artificial links.
Why Links are the Keys to Success
Back to Top
How Links Affect Rankings
Search engines currently base relevancy primarily on linkage patterns. Who links to you and how they link to you are what determines where your site will rank for competitive search queries.
How Not to Move a Web Site
If I did this with a client site, I'd deserve to be shot. Back in 2004 I changed my DNS and moved one of my sites at about the same time. The DNS change quickly propagated through, but my site took a while to load to the new server. Google happened to spider my URL when there was no site on the new web server: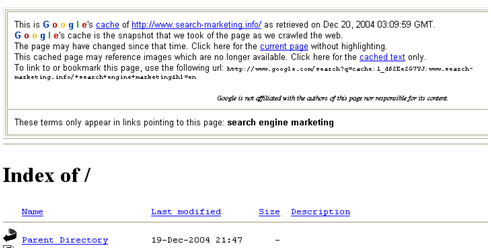 In spite of the site not being there, my then-blank site (Search-Marketing.info) still ranked at number six for search engine marketing out of 15 million results.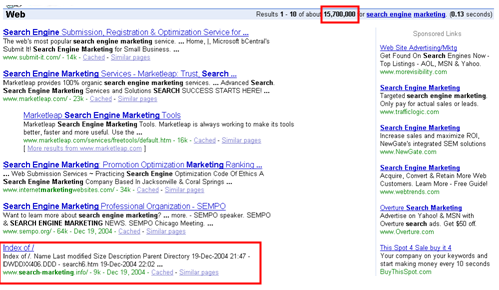 So don't repeat my error—the proper way to move hosts is to set up the new site, point the DNS at the new location, and then take the old site down after a few days to a week. But seeing how well the site ranked even when it was not there shows how powerful links are.
Why are Links so Powerful?
When we write stuff about ourselves, we have a tendency to lie. It is human nature to boost your own worth. This is why meta tags and page copy are nowhere near as powerful as they once were. They have been used and abused.
Links from other webmasters are viewed by search engines as unbiased (or at least less biased), third party votes. While Yahoo! tends to put more weight on page copy than Google does, links are the #1 ranking criteria for competitive phrases in all major search engines.
Links Represent Relationships
Many people who look for links just think "link," but often, this is not the most effective way to do link building. If you think of the web as a huge social network and think of links as relationships, you have a huge advantage over your competition.
You can do many manipulative things to make your site appear better than it is, but if you can find more natural ways to build your credibility and embed yourself in the social structure of the web, you will likely become extremely successful without risking getting penalized by search engines for having an artificial link profile.
Outsourcing & Hiring Link Builders
Back to Top
Outsourcing Linking Building
Many people find link building frustrating and time consuming and want to outsource the entire process, which typically produces poor results (especially in competitive markets). Since link building is associated with social relationships, brand building, and customer relations you can't effectively outsource it in its entirety. The best link consultants will identify strategic links you need to build, and help build some of them, but many of them also teach you how to identify link opportunities yourself. Producing effective results often requires
created high quality content people value
formatting it in a way that people want to talk about it
working with your internal marketing team, public relations teams, and social contacts to help launch and spread the idea
Hiring Link Builders
Rae Hoffman has a great post about interviewing potential link builders. She also created the following presentation about hiring link builders:

Uploaded on authorSTREAM by sugarrae
Additional Information
Back to Top
Have questions about link building?
Link Building Modules
Back to Top
Need More Information?
Want to learn more? Check out the member tour.
Want to Join the #1 SEO Training Course?

Join Today
Subscribe today to gain immediate access.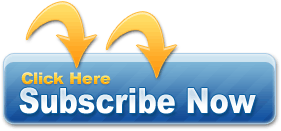 What You Get When You Join
You are only 1 step away from having access to all kinds of SEO goodies, including:
the top ranked online SEO training program, which includes over 100 training modules, has been well referenced around the world, & is currently being used as course material for accredited college courses in internet marketing.
the leading SEO community forums where you can interact directly with some of the sharpest minds in search & get your questions answered.
many high-quality exclusive SEO tools including our Website Health Check Tool, Competitive Research Tool, Duplicate Content Checker, Hub Finder, and the LocalRank tool
Join a True Community of SEO Experts

I've been a paying member since day one. It's been the best $2000 I've ever spent on SEO, SEM, Social Media and general business information.

Community members have very meaningful online success in difficult niches. These personalties combine to produce quite frankly a vital resource for all serious online businesses. - Liam Delahunty
Killer SEO Tools!

Join Today
Subscribe today to gain immediate access.